2017 Participants - The 10th annual Celebration of the Arts

Friday, May 5, 2017
The Gallery at Hillcrest
2705 Mountain View Dr, La Verne, CA 91750
(909) 593-4917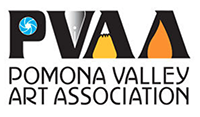 Friday, May 5 - June 23
6:00 pm PVAA artists
Rita Albadran, Elisa Arancibia, John Bagley, John Blickenstaff, Cheryl Cabrera,
Carolyn Cunningham, James Ellison,
Alma Ford, Linda Garcia-Dahle,
Judy Gutierrez, Kathy Gysin, Linda Hauser, Michiko Ikeda, Karla Kelman,
Don Markofski, Renee Matter, Raji Mayil, Kathleen McCall, Arlene Moren,
Elizabeth Moyer, Sherrie Nielsen,
Ciera Olson, Mark Piper, Serafin Santo, Larissa Shen, Marcelle Taylor, Natalie Titone & Nicolas White
6:30 pm Mariachi Los Martinillos Celebrating Cinco de Mayo!
Saturday, May 6, 2017
La Verne Church of the Brethren
2425 E Street, La Verne
(909) 593-1364
Saturday Evening, May 6, 8 - 9 pm Artist Reception
in the Gallery (Fellowship Hall)
Gallery Hours are:
10:30 am to 4:00 pm Saturday, May 6, 2017
Sunday, May 7, 11:30 am to 1 pm
Individual Visual Artists
Jo Ann Banks, Anna H. Bedford, John Blickenstaff, Joan Blocker, Juan Carlos Boxler, Dorothy B. Davis, Emma M. Davis, Eric M. Davis, Lynda J. DiAlo, Milla Fields, Linda Garcia-Dahle, Dot Hess, Linda Himes, Jan Huber, Rosalyn Hudock, Kristi Karnes, Ruth Kniesley, Sara Kovach, Julie Kurtz, Angel Kwinn-Green, A. Leroy Lapp, Jennifer McCartney, Randy Miller, Ciera Olson, Joyce Robison, Sylvia T. Sheriff, Lorna Skeie, Lisa Stamatis, Deborah Waas, Joanne Wagoner, Opal Wilkinson, Yagmur Yazici, & Robert W. Zailo

Groups

Head Start. The walls of the hall adjacent to the Gallery feature framed work from more than 50 students attending Head Start at the La Verne Church of the Brethren. Ages of the artists are 4 and under.
Sixth Street Art Studio - Lynn McCallion.
Artists Exhibiting: Alexa Brown, Suri Chang, Dynasty Iles, Sophia Keller, Pat Kuenning, Lynn McCallion, Jeannie Martin, Katie Mason, Keila Nelson, Catherine Tanijada, Tracy Tranijanda, Elaine Wang, Fiona Wu, Hayley Xhu, Rachel Yuan, & Dora Zhu.
Featured Book (classroom hallway)
Author: Barbara Mosier Smythe - "Your Hands Are All Squishy, Grandma!" Subtitle: Within the Grasp of Two Generations, a Lifetime of Learning and Love


Saturday May 6, 2017
La Verne Church of the Brethren
2425 E Street, La Verne
(909) 593-1364
10:30 am *Bonita High School Jazz - Rock All-Stars
11:30 am *Randy Miller
12:00 pm *Trio Buen Tiempo

LIVE PLEIN AIR - PAINTING EXHIBITION
Juan Carlos Boxler, Eric M. Davis, Linda Garcia-Dahle,
& Chuck Fogg

12:30 pm *Tim Dewees
1:00 pm Hillcrest Singers, Deborah Waas, Director
1:30 pm I LOVE Chorus, Donna Marie Minano, Director
2:00 pm Trinity Maryanski
2:10 pm Irish Dimensions Dance Company
2:50 pm Amaya Gonzalez
3:00 pm CCSM Flute Ensemble – Directed by Karen Fabiero
6:30 – 8:00 pm EVENING CONCERT IN THE SANCTUARY
Ava Verhoeven & Grace Bernard - Opera & Musical Theatre
Case Keough - Pianist
Music Express, BUSD Elementary Honor Choir, Heidi Bird, Director
Sunday, May 7, 2017
La Verne Church of the Brethren
2425 E Street, La Verne
(909) 593-1364
11:45 A.M. FELLOWSHIP HALL PERFORMANCE
Bonita High School Jazz Band, Jeff Bird, Director
1:00 pm SANCTUARY PERFORMANCE
La Verne Church of the Brethren Sanctuary Choir, directed by Dr. Niké St. Clair
Jared Ferree-Soloist
Music In Motion, BUSD Elementary Honor Choir, Heidi Brightbill, Director